Erdrich Criticism
Edited by Allan Chavkin. The Chippewa Landscape of Louise Erdrich. Tuscaloosa, AL: University of Alabama Press, 1999.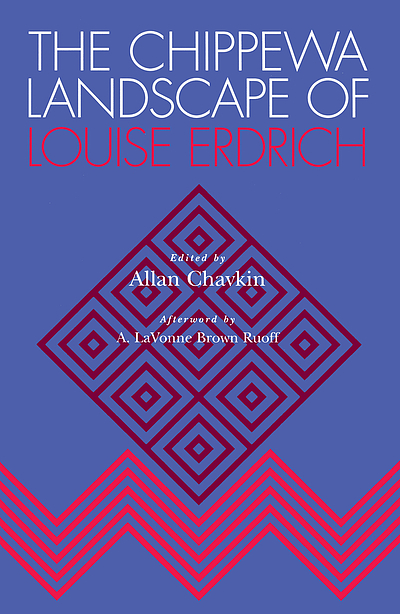 Book Details · Table of Contents · Published Reviews · Commentary
---
ISBN 081730942X (cloth); 0817309551 (paper)
OCLC# 39856146
viii, 213 pages

Library of Congress Subject Headings Assigned:
Descriptor:
Women and literature -- United States -- History -- 20th century.
Indians in literature.
Ojibwa Indians.
Named Person:
Erdrich, Louise -- Criticism and interpretation.
Erdrich, Louise, 1954- -- Criticism and interpretation.
---
Introduction (pp. 1-7) by Allan Chavkin.
Chapter 1, "Against All Odds: Games of Chance in the Novels of Louise Erdrich" (8-35) by John Purdy.
Chapter 2, "From Sacred Hoops to Bingo Palaces: Louise Erdrich's Carnivalesque Fiction" (36-66) by Robert A. Morace.
Chapter 3, "Life into Death, Death into Life: Hunting as Metaphor and Motive in Love Medicine" (67-83) by Robert F. Gish.
Chapter 4, "Vision and Revision in Louise Erdrich's Love Medicine" (84-116) by Allan Chavkin.
Chapter 5, "Narrative and Ethos in Erdrich's "'A Wedge of Shade'" (117-129) by William J. Scheick.
Chapter 6, "Of Vision Quests and Spirit Guardians: Female Power in the Novels of Louise Erdrich" (130-143) by Annette Van Dyke.
Chapter 7, "Ethnic Signs in Erdrich's Tracks and The Bingo Palace" (144-160) by Catherine Rainwater.
Chapter 8, "Indi'n Humor and Trickster Justice in The Bingo Palace" (161-181) by Nancy J. Peterson.
Chapter 9, "Afterword" (182-188) by A. Lavonne Brown Ruoff.
Selected Bibliography (189-199) by Allan Chavkin and Nancy Feyl Chavkin.
---
Davis, Mary. Rev. Library Journal (ISSN 0000-0027). 124:6(April 1, 1999), 94.


Hafen, P. Jane. Rev. Great Plains Quarterly (ISSN 0275-7664). 21:1(Winter 2001), 71-72.


Matchie, Thomas. Rev. North Dakota Quarterly (ISSN 0029-277X). 67:3/4(2000), 332-338.


Ware, Amy. Rev. American Indian Culture and Research Journal (ISSN 0161-6463). 24:3(2000), 179-181.
Modified: November 27, 2013,